La Pasta di Aldo Hand made in Monte San Giusto Italy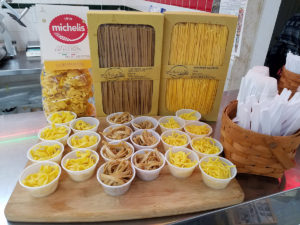 What is Spelt?
Spelt is a grain that contains gluten, much less than common wheat, but it is not a gluten free grain. It is recommended to seek a naturopath to know which gluten grains you are intolerant to.
Spelt (Triticum spelta)is an ancient grain which should not be confused with common bread wheat (Triticum sativum), rye, barley or even oats. Spelt is a member of the same grain family but is an entirely different species and has certain properties which make it in many respects quite different. Having fallen from favour as a grain for cultivation in the 19th century following the rapid development in modern farming techniques, spelt is currently enjoying a resurgence in popularity as information about its value as a food source and its ability to be tolerated by many people with wheat sensitivities becomes more widely known.
History and Origins
Spelt is approximately 9000 years old. There is evidence that spelt was cultivated by ancient civilizations both in Europe and the Middle East thousands of years ago. It is mentioned in the Old Testament and in various Roman texts. Carbonated grains of spelt have been found throughout Europe including Britain, in many Stone Age excavations. Its popularity remained widespread, especially in Eastern Europe, until the end of the 19th century. German records of one region, dated 1850, showed that 94 percent of the cereal acreage was producing spelt and only 5 percent producing bread wheat. The rapid fall from favour of spelt was mirrored by rapid developments in modern farming. Once combined harvesters were introduced which could harvest common bread wheat in a single process it would have no longer been so attractive for farmers to continue to grow spelt. This is because each individual grain of spelt unlike common wheat is covered by a tough outer husk which requires removal in a further process before the grain can be milled into flour.
Fortunately spelt was not entirely lost to mankind and in the mid 1980′s it was rediscovered in Europe and has undergone a major resurgence in many parts of the world ever since. However for this to happen, special machinery which could de-hull individual spelt grains in commercial quantities needed to be introduced into the chain of production for making flour. However by this stage it was realized by those taking the lead in this renaissance that the time and cost of having to do this was far outweighed the advantages to both farmers and consumers of resurrecting this ancient grain.
Check Out Video: http://www.lapastadialdo.it/videoeng/